Blog Posts
How Customer Service and Supply Chain Risk Impacts Manufacturers
After the prolonged labor negotiations and February slowdown at the West Coast ports, industry experts are just now beginning to fully realize what a toll it took on manufacturers' bottom lines. For one growing automaker, the disruption might have taken a significant bite out of its Q1 earnings.
About 60% of the parts that go into Tesla Motors' Model S electric car come from international suppliers, says Global Equity Research's Trip Chowdhury. It caused a unique problem for the automaker – the Model S is the only vehicle Tesla currently sells. As quoted in Barron's, Chowdhury indicates Tesla was forced to fly many of the parts in to its Fremont, California factory in January and February. "Because of the Port Strike, Tesla has not really shipped cars internationally. Most of the shipments were for the domestic market."
Tesla is a new and arguably disruptive force in automobiles, and has led the charge in popularizing the electric car since unveiling its first model, the Tesla Roadster, in 2006. While other automakers were able to buffer the impact of the West Coast port strike by making adjustments to their supply chains, it might not have been so easy for Tesla, which has the bulk of its suppliers in Asia and its manufacturing anchored in California.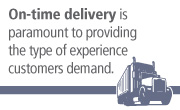 With the labor dispute now resolved, Tesla's situation seems to have improved. Still, Global Equity Research believes that disruption will cut into Tesla's Q1 profits, with the balance sheets stabilizing from the second quarter on.
For manufacturers, on-time delivery and the ability to meet customer expectations are essential to provide the type of experience customers demand. Customers make their decisions based on their perception of "how dependable is this manufacturer?" or "how dependable is this brand?" It's a marked shift in expectations that's taken place over the past decade, one that's largely been shaped by consumer markets.
As an example, one need look no further than Amazon.com. When you order something from Amazon on two-day delivery, you know that you'll have the product within two days. It's reliable, it's consistent, and it's the kind of transparency customers now expect. These consumer best practices are now driving business best practices. In the consumer world you are getting used to solid, consistent delivery. Those behaviors are expected in the business world as well - customer service is leading the way.
What Tesla Learned About Customer Service
Tesla had to make some tough decisions through the strike. The manufacturer couldn't simply wait for its shipment to come in – it had to weigh who it could continue to serve and how best to achieve that goal. Ultimately, it had to sacrifice sales to foreign and emerging markets for a short time while continuing to meet domestic demand. We have yet to see how much of an impact this will have on the electric automaker's bottom line, but it has certainly left its investors asking questions and its customers wondering whether to wait for a new car from Tesla or go buy something today from another brand.
These unexpected events can reduce a company's liquidity and even lead to a loss in sales and consumer confidence. If you can't deliver what the customer wants when they want it, it's easy for them to make the decision to go somewhere else. Unfortunately, these issues often begin earlier on in the supply chain. What's available on the showroom floor is the product of weeks and months of planning, shipping, and assembling, and a customer really doesn't care whether you had to wait out a ship's arrival or had to fly parts overseas.
Visibility across the supply chain and a strong global transportation management strategy are the first steps to avoiding this type of risk. A company can't control everything that happens with its suppliers or its shippers. But it can position itself to respond.